Ematic 7-inch HD Quad Core Review
Posted by : Julia Flores
Wednesday, April 2, 2014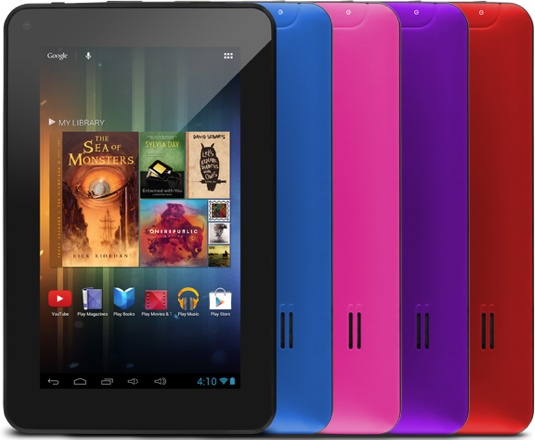 For the slightly higher price of $80-90, this device has the most impressive-sounding name out of the three tablets here, but anyone expecting a tablet on the level of Amazon's Kindle Fire HD (and similar HD devices) may be disappointed. With a resolution of 1024 x 600 and an HDMI-out port, the device may technically be "HD," but it also suffers from the "glare on a tilted screen" problem (though to a lesser extent), in addition to having only 169 ppi. It does expand the storage capacity to 8 GB, doubles RAM to 1GB, and successfully runs Android 4.2, so it feels speedier than the other two tablets.
Strangely, the screen does not lie flush with the sides of the device, leaving somewhat of a sharp edge all around. Again, there are no volume buttons, but interestingly, it has a physical "Back" button, unlike most Android devices that just have the software button to return to the previous screen. However, the "Back" button is the same size and shape as the power button and is located on the top center of the device, so it was not an intuitive place for my finger to go. I mainly used the software "Back" button anyway.
The oddest thing about this device is how strange it smelled coming out of the box (which is probably the first time that's been written about in a device review here!) Ematic's Genesis Prime did not have this problem. None of us here could pinpoint why that was—tablets aren't supposed to smell like anything! (Even Apple, a software company that could potentially market its devices with a pleasant, fruity scratch-n-sniff, chooses not to do so).
The expression "you get what you pay for" rings true for many things, but especially devices. Although budget tablets may not be optimal for eBook reading or streaming video, OverDrive Media Console does work on the ones mentioned here. In conclusion, the blurrier screens, lower performance, and occasionally confusing owner's manuals may not be so good for Grandma, but cheaper devices may be fine for rambunctious kids who just want to read eBooks or play (slower) games, as well as for users who just want a simple tablet for access to library titles through OverDrive.